The New Standard In Value 
The Seiko Instruments RP-D10 is the new standard for value in thermal receipt printers. Built on the sleek cube design, the RP-D10 delivers exceptional performance, flexibility, reliability and ease of use, all at a budget friendly price.
Free up Needed Space
Real estate at the point-of-sale is at a premium in retail and hospitality applications. Unnecessarily bulky hardware is no longer an option. With an innovative cube design, Seiko receipt printers offer the smallest footprint available (5.08-inch cube), while still supporting standard-sized POS receipt paper rolls.
Get More Flexibility
The RP-D10 series supports front and top-access control capability. With this nimble design, users have the flexibility to tuck a printer away under the counter, helping to simplify integration.
Improve Reliability
RP-D10 series models are rated for at least 62 miles of printing and 1.5 million cuts. Rely on Seiko printers to boost peripheral reliability and immediately increase the return on your IT investment.
Streamlined Integration, Smooth Operation
Seiko printers offer a host of tools to get you up and running quickly. All models include a robust, intuitive, utility software suite to simplify the configuration process. Industry standard ESC/POS commands are supported to facilitate programming and web-based "print-preview" functionality further simplifies receipt design.
Variable print speed settings are supported to meet unique application requirements. Setting options include: high speed, quiet mode (moderate speed), high quality graphics mode (low speed), and variable speed (automatically adjusts to high speed for text, lower speed for graphics).
The anti-jamming cutter design simplifies maintenance by automatically returning the cutter to the "home" position when the paper cover is opened.
Faster Printing for a Better Customer Experience, More Revenue
RP-D10 printers offer almost 8 inches per second print speed (200 mm/second). With exceptional performance value for its class, RP-D10 enables users to add valuable information to receipts, including coupons, loyalty program information, or extended warranty verbiage. Seiko performance means happier customers and incremental revenue opportunities.
Consume Less Paper
Multiple techniques can be employed relatively easily to reduce paper consumption:
Convert from 80 mm to 58 mm width paper
Reduce the output image by 75%
Eliminate unnecessary white space at the top of receipts, using the "backward feed" command
Receipt Printer Installation Diagram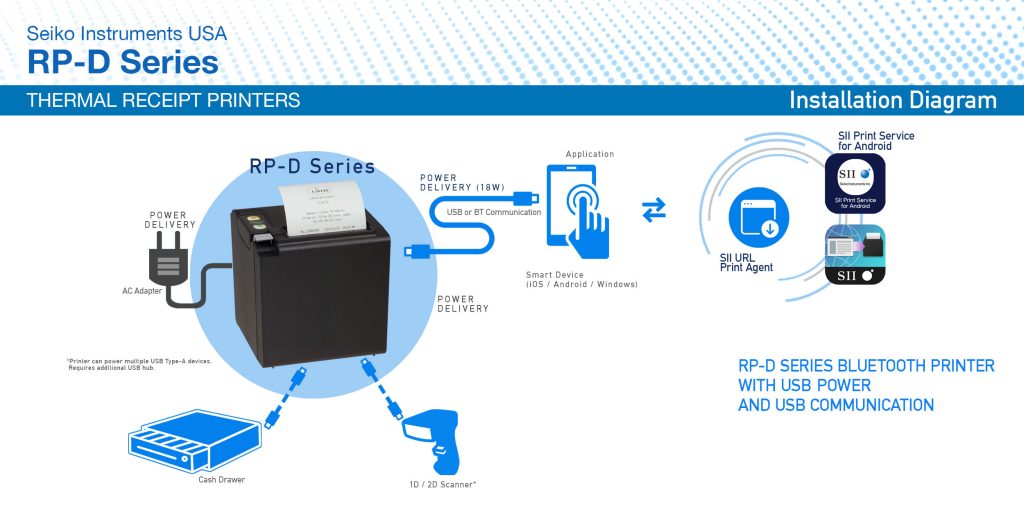 Product Highlights
The new standard in value
Windows, IOS, Android and Linux compatible.
5.08-inch cube frees up space
Almost 8 inches per second print speed
Each model supports top and front access
Minimum 62 miles printing, 1.5 million cuts
Command emulation
ENERGY STAR certified
Worry-free 2-year warranty
Technical Specifications
Model
RP-D10
Printing
Method
Thermal line dot printing
Number of dots/line
576
Resolution
203 dpi (8 dpmm)
Paper width
2.28/3.15 inch (58/80mm)
Printing width
2.13/2.83 inch (54/72mm)
Speed (max/sec)
7.9 inch (200mm) max/sec
Outside diameter of paper roll max
3.27 inch (83mm) max
Inside diameter of paper roll
0.47 inch (12mm)
Character matrix (HxW dots)
24 x 12, 24 x 24, 16 x 8, 16 x 16
Character dimensions (HxW)
0.19 x 0.06, 0.19 x 0.19, 0.08 x 0.04, 0.08 x 0.08 inch
(3.0 × 1.5, 3.0 × 3.0, 2.0 × 1.0, 2.0 × 2.0 mm)
Type of paper
Roll paper
Character type
Codepage (14 pages), Katakana character set, User-defined character, Downloaded character, Optional font, JIS 1st and 2nd level Kanji, Special characters
Bar code
UPC-A/E, JAN (EAN) 8/13, ITF, CODABAR, CODE39, CODE93, CODE128, QR Code, PDF417, MaxiCode, Data Matrix
Power supply (V)
Specified AC adapter, External power (DC24V ± 5%)
Communication interface
USB, Serial, Powered USB, Ethernet, Bluetooth®
Input buffer
4k bytes
Command
ESC/POS™ conformity, Markup Language
Cutting
Method
Slide type
Cutting type
Full cut, Partial cut (Leave center point)
Operating temperature
41 to 113°F (5 to 45°C)
Service life
Abrasion resistance
62.1 miles (100km) *1
Paper cutting (cut)
1,500,000 *2
Dimensions (WxDxH)
5.08 x 5.08 x 5.08 inch (129 x 129 x 129mm) *3
Mass
Approx. 1.87 lbs (850g)
Standard
FCC, CE, VCCI, etc.
Options
Wall mounting kit, Back plate
Cash drawer
2 drivers (24V / 1A)
Body color
2 colors: White / Black
Software utilities, SDKs
Printer Driver/SDK, OPOS Driver, POS for .NET Driver, JavaPOS™, Android™ SDK, iOS SDK, Linux® CUPS Filter/SDK
*1 Use recommended thermal papers.
*2 Vary according to thermal paper.
*3 Excluding protrusion.