RP-F10 & Optional Digital Signage Display – Seiko's innovation at work!
The RP-F10 and optional digital display offers compelling new value, transforming POS transactions into direct interaction with your Customer right at check out where they can be most receptive! The high resolution optional digital signage color display is designed to attach seamlessly to the printer or separated as needed. Check out below some of the greatest features of the RP-F10 and Display!
Unique customer and focused communication at point of sale
mPOS and POS ready with optional USB-C power and communication with smart devices
Extend digital signage and targeted advertisement
Enable mobile payment via QR or barcode
Loyalty programs and promotional coupons
Call to action and instructional
Cue management (print cue-ticket, call by display)
IDEAL FOR mPOS – Minimum Space with Maximum Performance
Power smart devices from printer via USB Type C
Compact cube design with flexible 2-way paper ejection
250mm/second high speed printing
Reliable Connectivity Options
Bluetooth with NFC for easy and fast mobile pairing
USB Type C power and connection for stable communication
iOS, Android, Windows and Linux
®

support with 1 model
Simplify operations with no need to stock multiple SKU models
Easy implementation options via SDK, cloud print agent or Android print service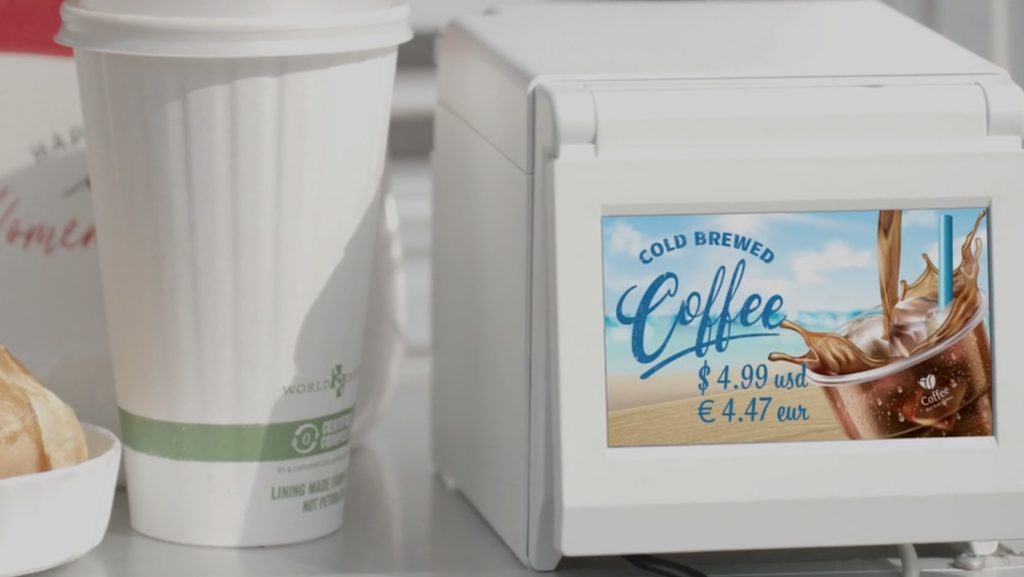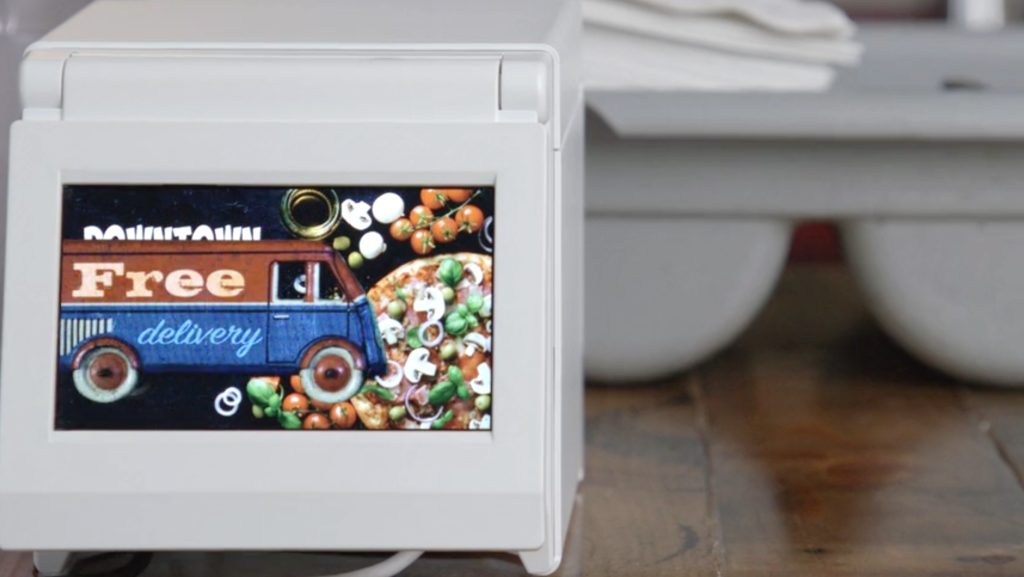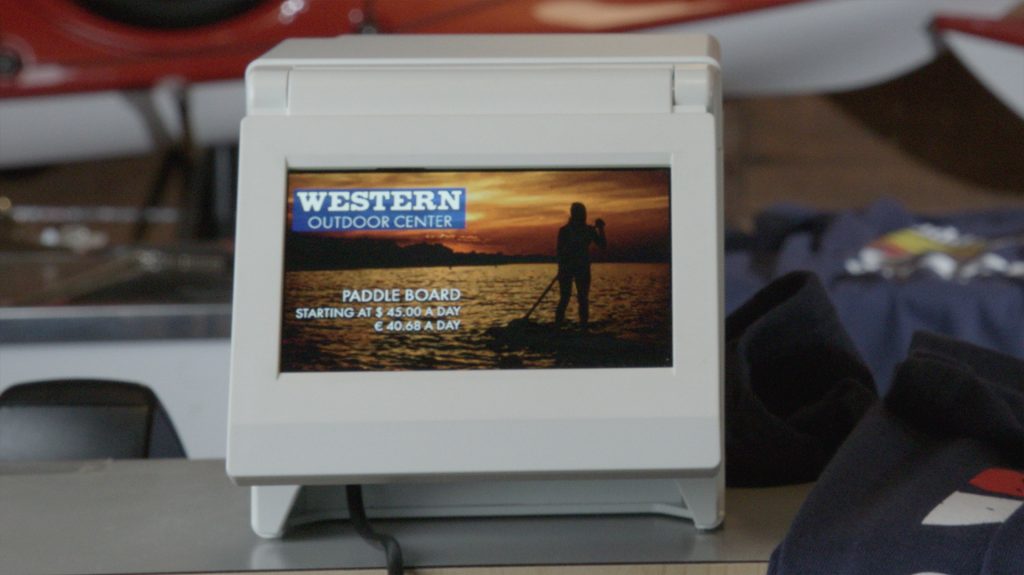 This awesome 4 inch display can be attached to the printer or tethered remotely using a simple USB cable.  These colorful ad-on's can be programmed in a number of ways to further engage your customers at the time of check-out.
Electronic Payment Options
Digital payment platforms have proliferated around the world.  Few products make electronic payments easier than the Seiko Instruments RP-F10 paired with the optional DSP-A01 Color Display.
Payment codes can be displayed for all of the leading payment solutions and the ability to remotely position the display screen provides unrivaled flexibility in configuration.

Enhanced Customer Engagement Capabilities
Modern consumers are constantly barraged with ads and other content all competing for attention.  The colorful, 4in display is the perfect upsell opportunities.  Personalized deals can be presented at checkout. 
Advanced Creative Options
Moving images have always led the way in visual engagement.  Now you can add animations and other colorful artwork to your customer experience.
TECHNICAL SPECIFICATIONS
Model
RP-F10
Printing
Method
Thermal line dot printing
Resolution
203 dpi (8 dpmm)
Paper width
2.28/3.15 inch (58/80mm)
Printing Width
2.13/2.83 inch (54/72mm)
Speed max
10 inch (250mm)
Outside diameter of paper roll max
3.27 inch (83mm)
Character matrix (H×W dots)
24 × 12, 24 × 24, 16 × 8, 16 × 16
Character size (H×W)
0.19 x 0.06, 0.19 x 0.19, 0.08 x 0.04, 0.08 x 0.08 inch (3.0 × 1.5, 3.0 × 3.0, 2.0 × 1.0, 2.0 × 2.0 mm)
Type of paper
Roll paper
Character type
Codepage (14 pages), Katakana character set, User-defined character, Downloaded character, Optional font, JIS 1st and 2nd level Kanji, Special characters
Bar code
UPC-A/E, JAN(EAN)8 /13, ITF, CODABAR, Code39, Code93, Code128, QR, PDF417, MaxiCode, Data Matrix, GS1 Databar
Power supply
Specified AC adapter, External power (DC24 ± 10 %)
Communication interface
USB+USB-host, Ethernet+USB-host, Bluetooth (NFC)+USB-host, Bluetooth(NFC)+USB Type-C/PD+USB host
Input buffer
4K bytes
Command
ESC/POS™ Conformity
Cutting
Method
Slide type
Type
Full cut / Partial cut (Leave center point)
Operating temperature
41 to 113°F (5 to 45°C)
Service life
Abrasion resistance
93.2 miles (150Km) *1
Paper cutting (cut)
1,500,000 *1
Dimensions (WxDxH)
5 x 5 x 5 inch (127 x 127 x 127mm)
Mass
Approx. 1.85 lbs (840g)
Standard
FCC, CE, VCCI
Options
Wall mounting Kit, Buzzer, LCD (4.3 inch color)
Cash drawer
2 drivers (24V / 1A)
Body color
2 colors: White / Black
Software
Printer Driver/SDK, OPOS Driver, POS for .NET Driver, Android™ SDK, iOS SDK, Linux® CUPS Filter/SDK
*1 Use recommended thermal papers.
*2 Excluding protrusion.
TECHNICAL SPECIFICATIONS
Model
DSP-A01
LCD
Panel Size
4.3 inch (25.4mm)
Method
TFT LCD
Color
16 Bit Color
Number of pixels (WxH)
480 x 272
Active area (WxH)
3.74 x 2.12 inch (95.04 x 53.856 mm)
Pixel pitch (WxH)
0.0077 x 0.0077 inch (0.198 x 0.198mm)
Luminance (cd/m2)
300
Contents
Characters, Barcode, Image
Character
Character matrix (HxW pixels)
24 x 12, 24 x 24, 16 x 8, 16 x 16
Character size (HxW)
0.187 x 0.094, 0.187 x 0.187, 0.125 x 0.062, 0.085 x 0.152 inch
(4.752 x 2.376, 4.752 x 4.752, 3.168 x 1.584, 2.168 x 3.168 mm)
Number of characters
ANK: 320 characters (40 characters × 8 lines)
Kanji: 160 characters (20 characters × 8 lines)
Character type
Codepage (18 Pages), Katakana character set, User-defined character, Optional font (max. 255 × 255 pixel), JIS 1 &2 Level Kanji, Special characters
Character decoration
Vertical double (x2, x4), Horizontal double (x2, x4), Bold, Underline
Barcode
1D
UPC-A/E, JAN (EAN)8/13, ITF, COOABAR, Code39, Code128
2D
QR Code (Version 1 to 22, Cell size 1 to 16 pixel)
Image
JPEG, PNG
Power supply
DC 4.75 V to 5.25 V (Activated with USB bus power)
Communication interface
USB 2.0 Full speed, micro B connector
Operating temperature
41 to 113°F (5 to 45°C)
Service life
30,000 hours
Dimensions (WxDxH)
Approx. 4.72 x 0.98 x 4.72 inch (120 × 25 × 120 mm) *1
Mass
Approx. 0.58 lbs (265g)
Standard
FCC, CE, VCCI
Display tilt angle
0 to 150°
Installation method
Mounted on printer (RP-F10), Stand-alone, Fixing screw (wall mount)
Software
Printer Driver/SDK, OPOS Driver, POS for .NET Driver, Android™ SDK, iOS SDK
*1 Excluding protrusion.