MP-B20 Series Mobile Printers
During the Summer of 2016, Seiko Instruments introduced its newest Mobile Printer Series known as the MP-A40, in response to business processes becoming more digitally driven for consumers and end users in a variety of vertical markets. With features such as withstanding drops of more than 6.5 feet, its ability to handle a 4-inch paper width, as well as its IP rated ruggedness to endure extreme temperatures, the printer is set to exceed the needs of today's challenging internal and external environments.
Now Seiko has once again stepped up to meet these trends with the design of an accompanying mobile printer series known as the MP-B20. Similar to the MP-A40 model, the printer offers its own unique set of features such as stability following 5-foot drops, a 2-inch paper width and high-resolution receipts that print at more than 3 inches per second. Designed to be used in a variety of vertical markets, such as retail, hospitality, healthcare, and warehousing and logistics, one of the printer's main features is its compatibility with mobile payment and mobile POS applications—specifically "Pay at the Table," and direct receipt delivery.
Compact and Lightweight
With a 2-inch paper width, which far outshines any of its competing mobile receipt printers currently on the market, the MP-B20 Series printers weigh less than 1 pound with battery pack. What's more, is that the printer's ability to withstand drops of up to 5 feet, is a perfect fit for a diverse mix of vertical markets; from hospitality and retail where space and convenience are of paramount importance, to other areas such as healthcare and warehousing/logistics, where ruggedness and environment play an important role.
Sleek and Stylish Design
Similar to the MP-A40 printer, the MP-B20 Series Printer features a contemporary yet functional design, while still offering the ability to print high-resolution receipts at more than 3 inches per second—one of the highest print speeds on the market. This is especially helpful in vertical markets where efficiency and speed are key and which require items such as barcoding, for instance in a medical and/or hospital setting. Other verticals can benefit from the printer's rapid speed, such as a line-busting scenario at a retail store, or a pay at the table situation in a restaurant.
Technology Options
The MP-B20 Series Mobile Printers offer compatibility with the latest operating systems including Windows, 7, 8, 8.1 and 10. There is also SDK availability for Android and iOS print class libraries for added mobility. The printer also features a USB style charger, as well as a compact and portable cradle for quick and easy charging options.
Product Highlights
Convenient 2-inch paper width
Withstands drops of up to 5 feet
Weighs less than 1 pound
USB style charger
High-resolution receipts at 3 inches/second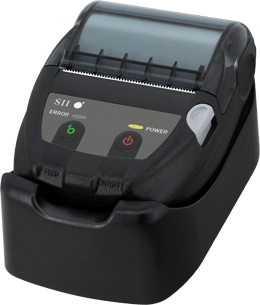 MP-B20 Series Specifications
Models
MP-B20
Printing
Method
Thermal line dot printing
Number of dots/line
384
Resolution (dots/mm)
8
Paper width (mm)
58
Printing width (mm)
48
Print Speed

(max mm/sec)

80
Paper roll diamater

(max mm)

φ40
Character matrix (HxW mm)
24 × 12, 24 × 24, 16 × 8, 16 × 16
Character dimensions (HxW mm)
3.0 × 1.5, 3.0 × 3.0, 2.0 × 1.0, 2.0 × 2.0
Type of paper
Roll paper
Character type
Code page(17pages), Optional font, Downloaded character, User-defined character, JIS 1&2 Level Kanji, Special character
Bar Code
UPC-A/E, JAN(EAN)8/13, ITF, CODE39, CODABAR, CODE93, CODE128 PDF417, QR Code, MaxiCode, Data Matrix, GS1 Databar
Power supply (V)
Li-lon Battery
Communication interfaces
USB, Bluetooth®
Input buffer
4k bytes
Command
ESC/POS™* conformity
Cutting
Tear bar
Falling resistance
1.5m*1
Operating temperature (°C)
-10 to 50
Service life (km)
50*2
Dimensions

(W x D x H mm)

79.0 × 110.0 × 44.0*3
Mass (g)
Approx. 180*4
Standard
FCC, CE, VCCI
Bundled item
USB cable, Battery, Belt crip
Option
Cradle for charging
Software
Printer driver, Windows®, Android™(SDK), iOS (SDK)
*1 This number is test result based on SII procedures, not guaranteed value.
*2 Using specified thermal paper.
*3 Excluding protrusion.
*4 With battery, without paper roll.
ESC/POS™: Registered trademark of SEIKO EPSON CORP.
Windows® is the registered trademark of Microsoft Corporation(USA).
Android™ is a trademark of Google Inc.
MP-B20 Series Printer Downloads
*registered users