March 31st is the last day of the Seiko Fiscal Year. What an exciting year of growth it has been. We have new partners, customers, and tools, which is the beginning of something special. When we kick off on April 1st with our aggressive budgets, we feel confident that with the right partners and the right products, we can have the hyper-growth we are looking for in 2023.
Partnership, Tools, People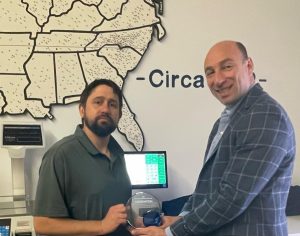 Our Channel Partners mean everything to us. We are a channel-focused company and want to continue to celebrate success. We are proud to announce that POS Nation is our 2nd ever Partner of the Year award winner.When we are looking at our partners, we look for three essential qualities:
Growth – We are looking for hyper-growth and want to work with our partners and grow together. POS Nation made major acquisitions this year and continues adding our product lines to their new companies.
Partnership – We want to support our partners with channel marketing funds to help them grow. This year we went to 4 tradeshows with POS Nation, including NACS and NGA. We also created joint marketing brochures.
Great Communication – Forecasting is not easy, but we worked closely with them to ensure they always had products when needed.

We continue investing in marketing tools to add productivity and visibility to our sales and operations team. For example, we have agreed with Tableau to start using their services.
We selected them to continue our integrations with Salesforce because they are the industry leader. Access to Sales data is crucial, and we are transforming our complex POS Sales Data into usable quality information.
We are using all the necessary tools to help us reach the desired
levels in 2023.

We are thrilled to announce that we hired Ben Meth as our new Associate Director of Business Development in January.
Ben has an excellent background in Enterprise Retail Sales, Channel Development, and building great customer relationships. Ben is a massive part of our new journey.
He will be responsible for growing our Retail, DSD, and DMAR channels. His combination of strategy, execution, and ability to create strong partnerships are all qualities we want to keep adding to the Seiko family.